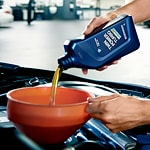 Thompson BMW is proud to offer drivers in Doylestown quality BMW service and maintenance. When it is time to service your BMW model, you can trust our trained service technicians to do the job right. Many types of BMW service can even be done while you wait.
Common types of BMW service and maintenance include oil changes, tire rotation, battery service, and fuel system service. It is very important that you maintain a regular schedule of service for your BMW. Failing to do so can have a negative impact on performance.
We use OEM BMW parts for service and maintenance, and our technicians have been certified to work on all BMW models. We can help you establish a routine of service for your vehicle that will help you get the most out of the BMW that you have chosen.