Tires are seasonal. Performance is not. Winter is around the corner...
 Purchase your BMW Approved Winter Tires at Thompson BMW.
Please call
215-340-3900
for specific pricing.
Click here
to schedule your appointment.
PURCHASE YOUR TIRES NOW AND WE'LL STORE YOUR SUMMER TIRES FOR FREE.
Thompson BWM Offers Seasonal BMW Tires in Doylestown
Cooler seasonal weather has an immediate impact on all-season or performance tires. BMW Approved Winter Tires from Doylestown offer the road-gripping features you need for confident driving, regardless of the weather. Why settle for anything less?
Starting at just 45°F, cooler temperatures cause the rubber to harden in non-winter tires, negatively affecting their road gripping ability as well as your BMW's steering and responsiveness-even on models equipped with xDrive.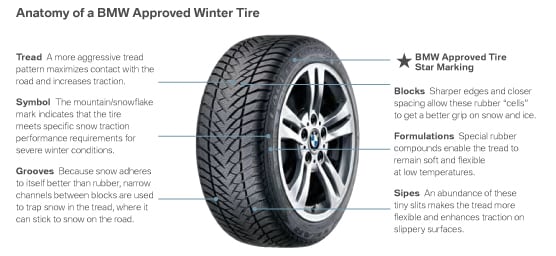 In addition to the unparalleled performance delivered by every BMW Approved Tire from Doylestown,
BMW Approved Winter Tires
offer these extra benefits:
- Cold-resistant silica compounds that retain flexibility even at low temperatures
- Sophisticated tread design with interlinking ribs that offer improved grip in ice or snow
- Deeper, self-cleaning treads that significantly improve tire grip and propulsion on wet roads
With BMW Approved Winter Tires from Doylestown, you can enjoy the power and performance of your BMW to its fullest - regardless of the weather forecast.