Please call
215-340-3900
for specific pricing.
GET READY FOR WINTER WITH BMW APPROVED COLD WEATHER TIRE PACKAGES
Tires are seasonal. Performance is not. Winter is around the corner. Purchase your BMW Approved Cold Weather Tires at Thompson BMW. 
We are here to help you care for your vehicle year round.  Equipping your BMW with Original BMW Cold Weather Tires and Wheels ensures that your vehicle can continue performing at the highest level you have come to expect and deserve from BMW.  BMW winter tires employ incredible traction control through special tread angles that channel winter precipitation encountered on the road, while retaining a strong grip on the road even in winter temperatures below 45 degrees Fahrenheit.  
We offer an impressive selection of stunning winter wheel and tire assemblies at Thompson BMW, so you can customize your BMW to your style and taste while maximizing performance.  Select light BMW alloy winter wheels to pair with your BMW Cold Weather Tires and Wheels for the ultimate winter driving experience. With the purchase of four winter tires, we will store them for you at no charge in the offseason, so you have one less thing to worry about.  Turn up the heat and enjoy the road ahead. 
PURCHASE YOUR TIRES NOW AND WE'LL STORE YOUR SUMMER TIRES FOR FREE
Cooler seasonal weather has an immediate impact on all-season or performance tires. BMW Approved Winter Tires from Doylestown offer the road-gripping features you need for confident driving, regardless of the weather. Why settle for anything less?
Starting at just 45° F, cooler temperatures cause the rubber to harden in non-winter tires, negatively affecting their road gripping ability as well as your BMW's steering and responsiveness-even on models equipped with xDrive.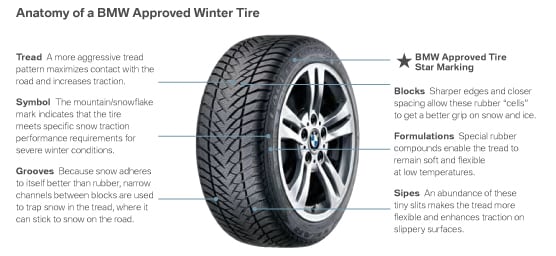 In addition to the unparalleled performance delivered by every BMW Approved Tire from Doylestown,
BMW Approved Winter Tires
offer these extra benefits:
Cold-resistant silica compounds that retain flexibility even at low temperatures
Sophisticated tread design with interlinking ribs that offer improved grip in ice or snow
Deeper, self-cleaning treads that significantly improve tire grip and propulsion on wet roads
SEASONAL BMW TIRES IN DOYLESTOWN
With BMW Approved Winter Tires from Doylestown, you can enjoy the power and performance of your BMW to its fullest - regardless of the weather forecast.
COMMONLY ASKED QUESTIONS ABOUT BMW APPROVED COLD WEATHER TIRES AND WHEELS
Q: Must every BMW be equipped with winter tires, even in locations that do not receive significant snowfall?
Snow and icy road surfaces are just one aspect of winter driving. When outdoor temperatures fall, rubber begins to harden, significantly impacting driver safety and vehicle performance. This phenomenon is known as "glass transition temperature" and generally occurs at 45º F for non-winter tires. With the silica compounds used in BMW Approved Winter Tires, the transition temperature is delayed to an estimated -4º F to -13º F.
Q: What about BMW models with xDrive?
Even the most advanced systems - including ABS, DSC, and xDrive - will only function properly if the vehicle's tires are suitable for the road conditions.
Q: Aren't winter tires subject to faster wear and tear, as well as being noisy and uncomfortable?
Because they are much better suited to cold-weather conditions, BMW Approved Winter Tires are by no means noisy or uncomfortable when used in winter weather. The use of BMW Approved Winter Tires is not recommended during the summer months, as they will indeed wear more quickly in the heat due to the softer rubber compounds used in their construction.
Q: What is the recommended tread depth for BMW Approved Winter Tires?
In ice and snow, the tires' specially ribbed, self-cleaning profiles effectively ensure that traction and directional stability are maintained and provide the shortest possible braking distance. For this reason, BMW recommends a minimum tread depth of 5/32" for winter tires.
Q: Are different wheels necessary for BMW Approved Winter Tires?
In some cases, the same wheels can be used for BMW Approved Tires and BMW Approved Winter Tires. However, many drivers choose to customize the look of their vehicles based on the season. All Original BMW light alloy wheels are resistant to wind, weather and road salt, and with the proper care will maintain their attractive appearance for years.