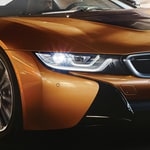 If you like the idea of driving a high-performance sports car and also want your next vehicle to be efficient, you'll be happy to learn more about the BMW i8. This plug-in hybrid has an eye-catching design and is as fast as it looks. At Thompson BMW, we know how fun the i8 is to drive, and we think you'll enjoy every minute behind the wheel of one.
Powering the i8 are a few different components. First, there's a turbocharged 1.5-liter engine, and there are also two electric motors. In total, there is 369 horsepower. The car is quick to accelerate, and it will really give you an exciting ride.
Keeping you safe are a number of driver-assist technologies. Various systems will keep an eye out for potential problems. If there is an issue, the car can give you a warning and/or take corrective measures. It's great to see how BMW is looking out for its customers.