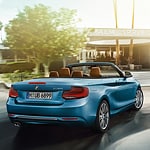 Sports cars give you something special on the roads of Doylestown. The BMW 2 Series is no exception. The powerful compact sports car comes in two body styles--a comfortable and coupe. There are a bunch of powerful engine options that get you up to speed in no time. Rear-wheel drive is standard, with all-wheel-drive being an option.
As you would come to expect from a luxury sports car, the BMW 2 Series has beautiful cabin materials. Standard infotainment features include modern features like a touchscreen and Apple CarPlay integration. Most cargo space comes via the Gran Coupe trim. It has just over fifteen cubic feet of space in the trunk.
We at Thompson BMW can't forget the safety features in the 2 Series. Standard features include automatic emergency braking and a rearview camera. The BMW 2 Series has plenty of different options to fit your driving needs.