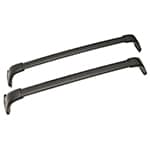 If you own a roof rack, you can haul all of your essentials without taking up interior space. This popular accessory allows passengers to stretch out comfortably by providing reliable and secure storage at the vehicle exterior. At Thompson BMW, we're eager to help Doylestown motorists get the most value from these incredibly helpful features.
Take A Look At The Included Literature
Before installing or using any new roof rack, be sure to read the owner's instructions. These accessories are designed to securely attach to car roofs without causing any structural or aesthetic damages. However, if you the mistake of over-tightening your rack or under-tightening it, serious problems could occur.
Never Load Your Cargo Until Your Container Is Positioned On The Roof
Don't try to load your cargo box or bag and then lift the heavy, filled unit onto the roof. It is much safer to position this container on the rack and then load your items in one at a time. For more tips on safely using your roof rack or to have your car serviced ahead of your next big trip, come by Thompson BMW today.