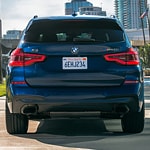 Thanks to an array of high-end features, the BMW X3 is a leader in the highly exclusive luxury compact SAV category. You can get to know the popular X3 at Thompson BMW today, so stop by our showroom as soon as you're ready to take one out for a road test.
The X3's roomy passenger cabin was designed with convenience in mind. The innovative gear shifter design frees up extra storage space in the front console, and the split rear seat can be configured to carry passengers, cargo or a combination of both.
Optimal weight distribution, a sleek profile and a sport-level suspension system come together to ensure excellent handling and a smooth ride. Intelligent all-wheel drive, a powerful six-cylinder turbo engine and an upgraded LED lighting package are also available.