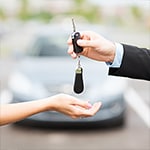 The used vehicle market can be very vast. At Thompson BMW, we pride ourselves on the extensive selection of used models that we always have on site. We don't want to overwhelm you though. We have some helpful tips that can make buying a used car simpler.
Set a budget and stick to it. Don't end up spending more than you can afford.
Take your time. Look at all of the different features that come with each vehicle you're considering.
Make sure you take a vehicle out for a test drive before making a final decision.
Acquire a vehicle history report so you know as much about a vehicle as possible.
Research different makes and models of vehicles. By the time you're making a purchase, you'll know whether or not you're making a wise investment choice.
Take your time with the process. If you don't see something right away, keep searching for something you like.