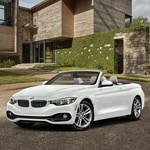 BMW is known for making some of the most dynamic and flexible vehicles on the road. They have taken this ethos to the next level with the 4 Series, as it can be had as a coupe, a convertible, or a four-door Gran Coupe. This flexibility continues with the features that BMW offers with the 4 Series.
To bump up the daily drivability of the 4 Series, BMW offers it with their legendary xDrive all-wheel-drive system. xDrive makes it easy to deal with any weather you may come across as you commute to and from Doylestown. To increase the dynamics of your 4 Series, you can always opt for the high-performance M4 variant. The M4 bumps up the power and gives you tons of features to enhance the handling.
If you want help choosing which version of the 4 Series works best for you, you can visit our team at Thompson BMW. They will help you narrow down your search, and they can get you going on a test drive once you find a vehicle that has what you are looking for.